Relic Tele Line of Bodies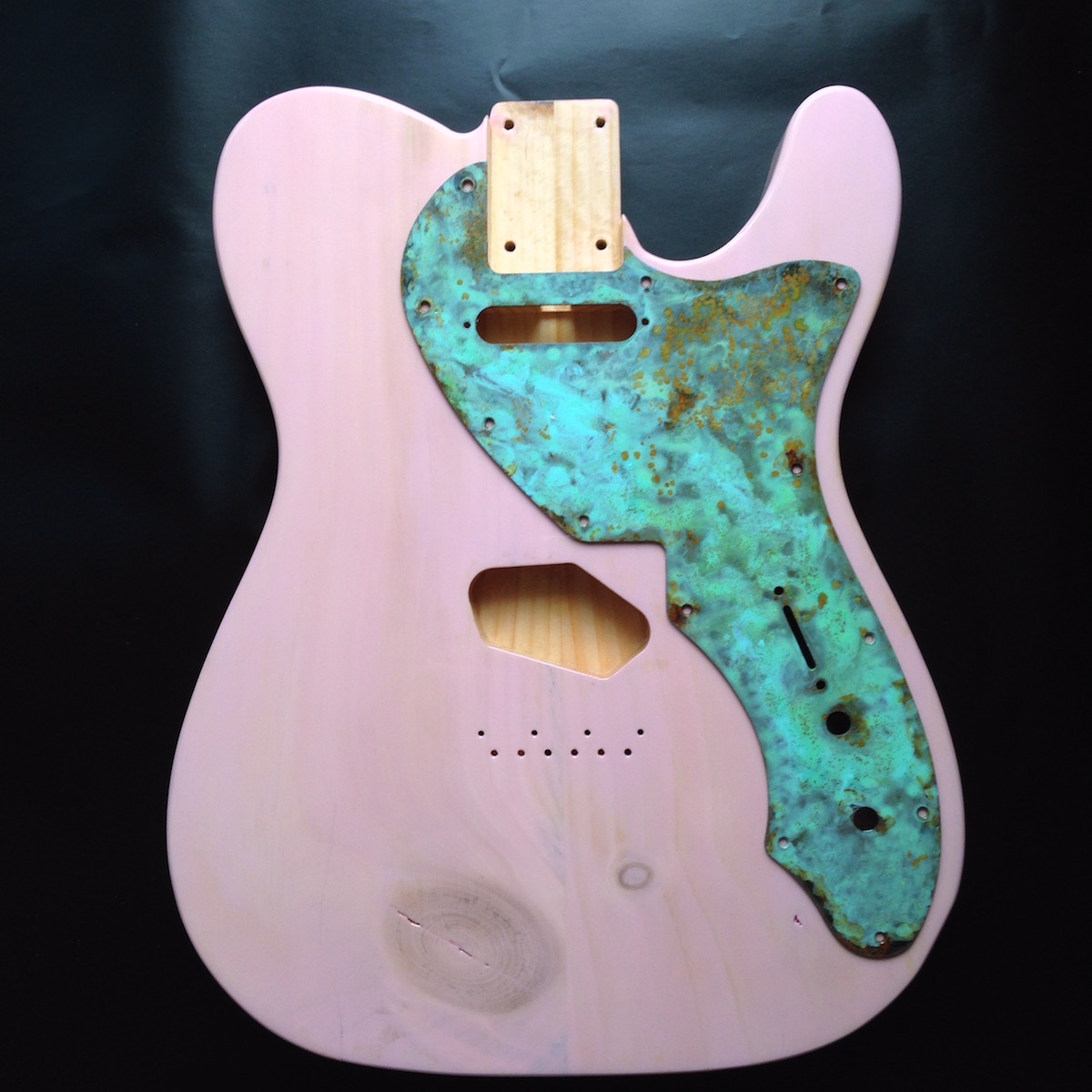 Tinline #2 Pine Tele in Coral pink
Number 2 in the The Rusted Relic "Tinline" series of Thinline style telecaster. The is a 2 piece recycled pine body in a Coral stain showing all the grain and textures. There is no filler on this body. The Hi Gloss clearcoat is just enough to protect the body while leaving all the grooves and waves of the wood.
The recycled steel pickguard is a series of incredible blues, seafoams and pockets of rust, finished in a satin clear coat
Specs: Just about 5 lbs with pickguard and electronics.
Neck fits 2-3/16" 56mm tele neck- there is smoothed clearcoat on this, pics shows nice fit.
Use a Classic Tele bridge pickup 3.4" x 3.034" 21.5 mm spacing for four mounting holes
Ferrules at back 8mm. Includes matching strap buttons,
Input jack with wire, and matching cover
Bag of stainless steel #4 Screws for pickguard and jack

$499 Canadian Price includes tracked insured shipping and taxes worldwide.
Buy securely from PAY PAL with the button below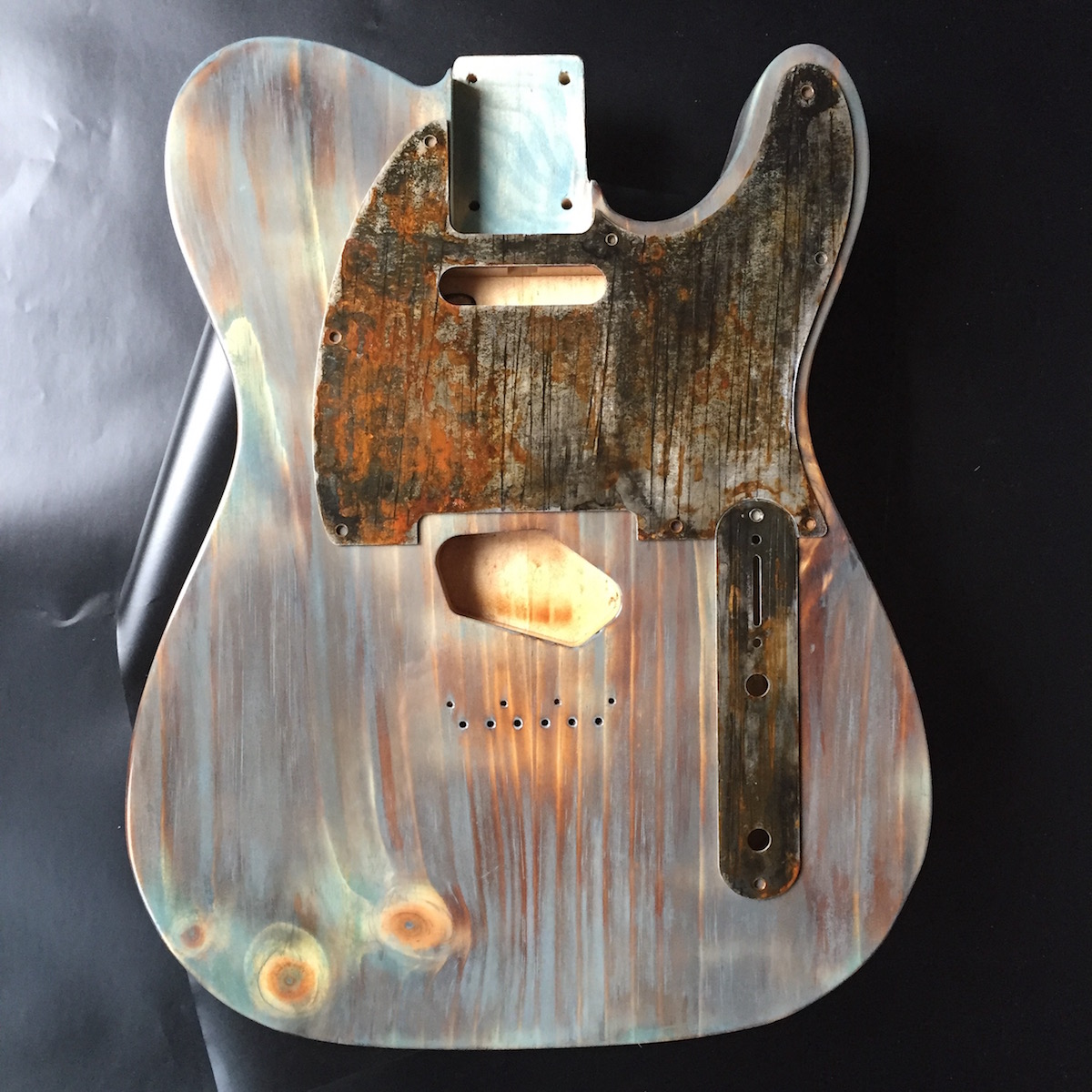 Blusmoke Burnt Pine Tele Body
The Rusted Relic "shou sugi ban" series of Standard style telecaster. You get a 2 piece recycled pine body in a torch burnt and dark blue stained body showing all the grain and textures. Like all my bodies, there is no filler, there is only the thin glue line and no hamful chemicals are used.This is burnt lightly so there are more waves than grooves. The Hi Gloss clearcoat is just enough to protect the body while leaving all the grooves and waves of the wood.
The recycled steel pickguard is a nice match of rust with various dark black lines and some textures, finished in a satin clear coat
Specs: Just about 5 lbs with pickguard and electronics.
Neck fits 2-3/16" 56mm tele neck- this is an unfinished neck pocket just some stain, pics shows nice fit.
Use a Classic Tele bridge pickup 3.4" x 3.034" 21.5 mm spacing for four mounting holes
Ferrules at back 8mm Includes black strap buttons,
Input jack with wire,
Bag of stainless steel #4 Screws for pickguard and jack

$569 Canadian Price includes tracked insured shipping and taxes worldwide.

Inspired by the Mr. Scary guitar line, this my version of the Telecaster in the Grooved and burnt style of the Lynch guitar. The pickguard is also grooved and follows the flow of the stripes which are correct copies of the classic  ESP  adapted to the Tele Body.
Tiger Tele #2 is "The white Tiger" 2 piece pine, burnt grooves  with a light white stain showing all the imperfections and patterns of the wood and gloss clearcoated. Combined weight is about 5 pounds. price  $589 Canadian.
Rusted "Tinline " Telecaster body
back in 2016 there was a house being renovated and a huge pine tree was chopped down and the logs just left out. I grabbed them and in 2019 the wood was dry enough to start making  guitars.
Lots of trial and error, down to some basic router and jigsaw and tons of hand sanding these are the bodies you see.